Pretty useful table showing what you need to do in order to grind the legendaries. Keep in mind due to pity timer, your chance of receiving a legendary item increases the more times you didn't receive it which was confirmed in MMO champ dev interview.
So each time you do activities on the right your chance of dropping a Legendary item increases by some +x% might be +0.0x% or +0.x% only the devs know. Hope you guys find this useful and remember to post a screenshot if you get it.
Edit: Just wanted to update this thread. Managed to get the first legendary in my guild by just following the things to do in the chart. Look in the chat window if you want proof that it's me. 
If you see the quests I have remaining you can tell that I am yet to finish
suramar
and not even halfway through my order hall missions
Without further ado, here's the chart you've been waiting for!
Update: 7th October Added a sample size of 266 legendary drops from my guilds + random people.
[lock]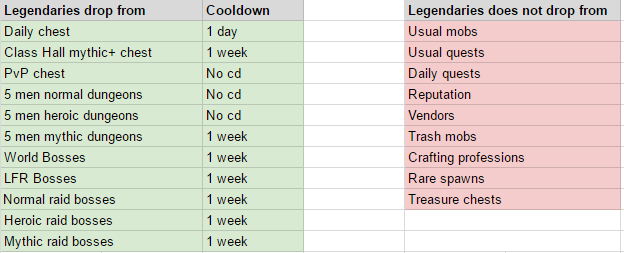 Drop Samples 266 and sources: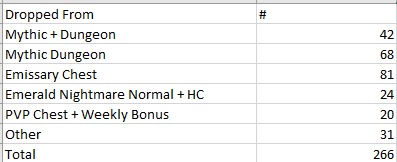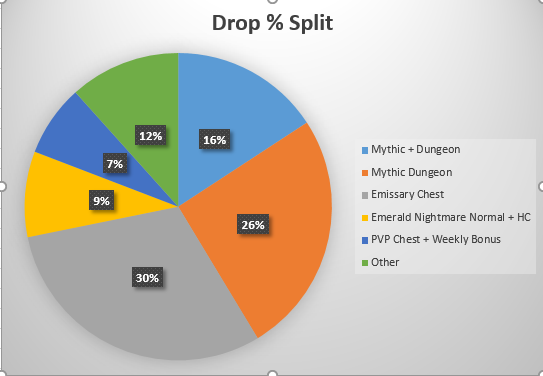 Keep in mind raids and Mythic+ were released recently, so we can conclude that the drop rate from Mythic + and Raids drop legendaries a lot more frequently than other sources.
I have seen in a single Heroic EN raid as high as 8 legendaries drop. So, if you can just attempt downing a few bosses it doesn't matter if you can clear Cenarius or not just getting upto him would be enough to get high odds of dropping legendary for you.
If you are a player who plays a few hours a day and still struggling to get a legendary focus primarily to get your world emissary daily quest done then go for mythic or mythic+ depending on your ilvl this is, by far the most consistent and efficient route you can take to get a legendary asap.
Added a comment by a member, can't confirm this 100% but thought you guys might want to know.
(10-04-2016, 05:50 PM)

testpost Wrote: [ -> ]You CAN get them randomly after completing any World Quest. Two people in my guild have received theirs both from doing World Quests.
[/lock]