You guys might have received the 16.40 GB download today running in the background, that the download size for 8.1 content.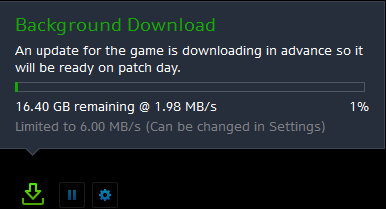 The 8.1 Tides of Vengeance Release date is on 11 December 2018
What this means is the current PTR patch and all its patch notes are the FINAL BUILD and there won't be any major changes going forward in the 8.1 build.
As with all patch downloads go, people are experiencing issues with the BNet launcher taking up almost 90% CPU
Here are all the patches released on PTR with preview and details on ICY-Veins:
Patch 8.1 Build #28440
Patch 8.1 Build #28366
Patch 8.1 Build #28294
Patch 8.1 Build #28202
Patch 8.1 Build #28151
Patch 8.1 Build #28048
Patch 8.1 Build #27985
Patch 8.1 Build #27826
Patch 8.1 Content
Allied Races
You will be able to
unlock Legion Allied Races faster
in Patch 8.1.
Class Changes
Multiple Classes are subject to changes in Patch 8.1. These include Elemental Shamans, Shadow Priests, and Protection Warriors. So far, Blizzard outlined plans for Elemental Shamans. They haven't decided what to do with
Protection Warriors
just yet.
Model Updates
Draenei totems received new models with a higher polygon count in 8.1.
Interviews/Livestreams
Game Director Ion Hazzikostas unveiled Patch 8.1 on September 18.