You guys thought server hop died? Wrong. Blizzard just made it so that people in the same map hopped in the same instance.
Before this change, you could just hop into any group and you'd be ported to a different shard which caused all herbs to respawn, after the change you just have to be a little smart about which groups you join. Takes more clicks than previous methods, but lazy people will find it harder now and thus the prices of herbs in your server are retained for a longer time.
This change also affects multiboxers as a single herb node can only be farmed by 5 unique players before it disappears.
You can get up to 80-150,000g per Hour depending on your Realm population, Herbalism Ranks and AH prices of herbs. Remember, herb prices will skyrocket during the initial few weeks of raids, so this is the most opportune time to farm these.
Things that you absolutely need:

Addon: 
You must post a reply below to unlock this link
Things that can help you immensely:

You must post a reply below to unlock this link
Either:
You must post a reply below to unlock this link
Or:
You must post a reply below to unlock this link
You must post a reply below to unlock this link
Addon that can help: Gatherer / Gather mate 2 with Gathermate 2 data
The Guide:
Go to an area called Gol Koval in Drustvar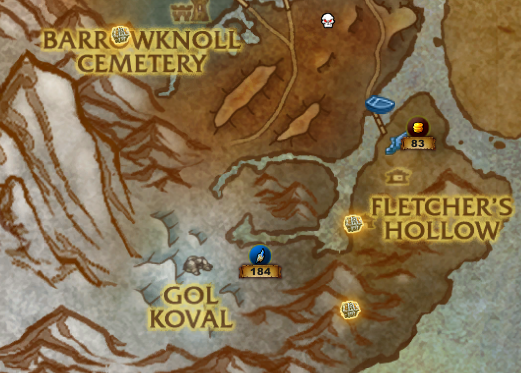 Use LFG > Quest tab to find groups in Drustvar.
Farm all the herbs around you, after all herbs in your minimap are gone find other group.
Slightly easier and faster way:

Use the addon listed above, now make sure you haven't done any WQ in Drustvar or done very few of em.
Now, using the addon just click the WQ points on the map, it will show you the WQ ID, memorize around 3-4 of these IDs.
On the addon just keep entering these ids and joining the groups and leaving them once you cleaned up the minimap.
Other good farming spots:
Hatherford Tiragarde Sound (I tested this as a Alliance character since it's an Alliance town, IDK if mobs/guards are hostile towards the horde)
Arom's Stand in Drustvar
Seeker's Outpost in Zuldazar (Alliance flight path /way 74 65 for horde)
/way 38 72 in Drustvar.
Edit (9th October 2018 New spot)
Remember to find groups in the same map in which you decide to farm.
Questions:
Pennycake Wrote:will test this now

edit: it works really well, but it works too well... I tried most of these spot and every phase has a ton of skygolems running around and herbs are all despawned waiting to respawn. I even keep seeing the people doing this join the same WQ parties as me to server hope.
Find places that are not so much saturated. I personally found like 1-2 spots I'm keeping it for myself. It's not that hard tbh, just while doing WQs you must've noticed a few high-density spots. Gather there. Use an addon like gatherer to mark the spot on maps then reevaluate spots.
------
I have written over 350+ guides for World of Warcraft on this forum. 
If my content has helped you and you wish to support me, please check the
Donate
option on the top of the site menu.